Advanced Heroes
Edit
Advanced Heroes are evolved Heroes, they are more powerful and looks different than other Heroes. You need to gather items and meet certain criteria to be able to evolve your Hero to Advanced status.
When your Hero reaches the rank of 1.st Lieutenant and level 50 the option to evolve into an Advanced Hero appears in the Hero Academy .
Specific items (combined from materials) and a blueprint are necessary to start the evolution process. Optional is to add a Level Scroll as addition to the previously mentioned Items to save the EXP progress you have made with the Hero.
'''Warning!''' Evolving without a Level Scroll will result in a evolved Dino Hero at level 1!
Advanced Archae Edit
Needed:
Archae Hero Lv 50
Rank 1st. Lieutenant
Rare items: Pegasus head, Star necklace, Blueprint 2nd Tier Archae
Optional: Level Scroll
Advanced Bombra Edit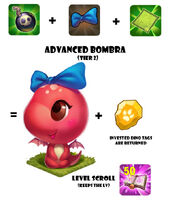 Needed:
Bombra Hero Lv 50
Rank 1st. Lieutenant
Rare items: Blue bowknot, Dynamite, Blueprint Advanced Bombra
Optional: Level Scroll
Advanced Dino Edit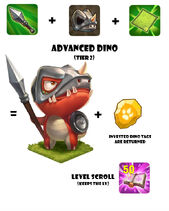 Needed:
Dino Hero Lv 50
Rank 1st. Lieutenant
Rare items: Iron helmet, Steel spear, Blueprint Advanced Dino
Optional: Level Scroll
Advanced Faerie Edit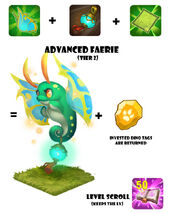 Needed:
Faerie Hero Lv 50
Rank 1st. Lieutenant
Rare items: Healing charm, Faerie wings, Blueprint 2nd Tier Faerie
Optional: Level Scroll
Advanced Froster Edit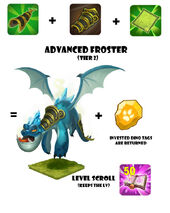 Needed:
Froster Hero Lv 50
Rank 1st. Lieutenant
Rare items: Carpace, Tail armor, Blueprint Advanced Froster
Optional: Level Scroll
Advanced Kouga Edit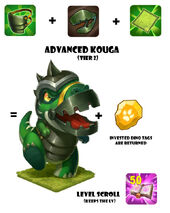 Needed:
Kouga Hero Lv 50
Rank 1st. Lieutenant
Rare items:  Metal jaw, Plate Armor, Blueprint 2nd Tier Kouga
Optional: Level Scroll
Advanced Lightning Edit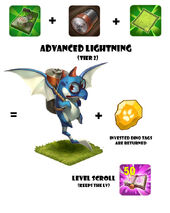 Needed:
Lightning Hero Lv 50
Rank 1st. Lieutenant
Rare items:  Dry Cell, Booster module, Blueprint 2nd Tier Lightning
Optional: Level Scroll
Advanced Mocyl Edit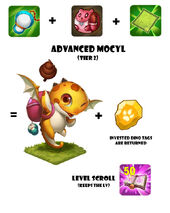 Needed:
Mocyl Hero Lv 50
Rank 1st. Lieutenant
Rare items:   School bag, Hand do hang, Blueprint 2nd Tier Mocyl
Optional: Level Scroll
Advanced Steelback Edit
Needed:
Steelback Hero Lv 50
Rank 1st. Lieutenant
Rare items:   Wooden chest armor, Wooden shield spikes, Blueprint 2nd Tier Steelback
Optional: Level Scroll
Advanced Raptor Edit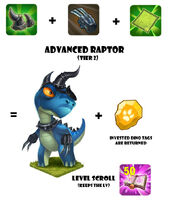 Needed:
Raptor Hero Lv 50
Rank 1st. Lieutenant
Rare items:  Steel horns, Steel claws, Blueprint Advanced Raptor
Optional: Level Scroll