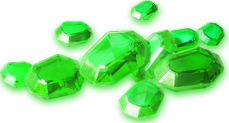 What are Gems
Gems are green and shiny and can be used for speeding up your progress in Dino On Fire.

Gems can be used for:
Finish off construction work right away
Re-battle Adventure Stages after the daily limit is reached
Exchange for Solar Energy or Coins
Healing Heroes instantly when hurt
Remove Cool Down Timers for various actions
Chase WANTED Heroes without loosing Hero energy, with chance to get Heroes as a reward
Sweep stages after your energy has been used
How do I get more Gems?
Gems can be purchased in the In-App Store. Go to the Gem Shop in the right part if the screen and check out the different Gems packages.
Other ways to get more Gems:
Complete and claim rewards for Quests and Achievements
A reward of Gems is possible in the Wild Adventure Stage
Aim for the top in the Dino-Ranking or Dino-Clan-Rankings
Login regularly and claim your Login rewards, sometimes they contain Gems!
Perhaps some are under rocks or trees in your Village?
Gem Packages
Pile of Gems (150 Gems) for $1.99
Lots of Gems (500 Gems) for $4.99
Bag of Gems (1250 Gems) for $9.99
Sack of Gems (2750 Gems) for $19.99
Box of Gems (7000 Gems) for $49.99
Chest of Gems (15000 Gems ) for $99.99
Please Note: Prices may change depending on Currency used. Gem Sales Sometimes, there are Gem Sales where you get additional Gems or parts of Heroes with each purchase.
The deals can usually only be bought ONCE per package.