What are Skills?
Edit
Skills are abilities that can be used by Dino Heroes in battle, these skills are found in the Adventure Stage on the Battle Map. Finishing the mission with a Dino Hero able to get the possible reward will make finding skills easier.
Skills can be Active or Passive, like a Fireball compared to a supportive aura giving aid to your Warriors or Ally Heroes.
How do I get Skills?
Edit
Skills are found in the games PvE content. In the Adventure stages you can now find three types of books instead of the previous skill items.
How do I use Skills?
Edit
When an Active Skill is ready and suitable targets are around an icon will appear above the Dino Hero, press this button and the skill will be triggered. Active skills have a cool down timer that limits use after being triggered once, but will reappear one the cool down time has finished and there is a suitable target in range.
Upgrading Skills
Edit
If you find a new skill and decide to switch, it will be at same level as the skill you replace.
Skills can be upgraded to level 3 without worry of failure. After level 3 it becomes more and more difficult.
Skill Books
Edit
Skill books can give your Dino Hero a new skill, or be combined with 3 others to chance finding a new, perhaps better, skill.
Book of Knowledge
Edit
These can be found in Adventure Stages and are used to upgrade skills to a higher level.
Combine Skills
Edit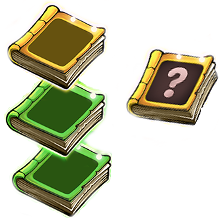 In order to make room for new skills you can combine 3 books to get a new one.
By adding a refined book into the mix you increase the chance of getting a new refined skill.
If you have 3 refined books the chance of getting a new refined skill is 100%.







Skill Slot Berries
Edit
Dino Heroes can eat berries that stimulate the brain, making it easier to hold more facts in the head. With this increased brainpower Heroes can use more skill slots. Note:All Heroes start off with 1 skill slot.
In Wild Adventure you have a chance to find rare Berries that open up skill slots.
Unlike before, you can now choose for yourself which Hero to feed the berry to, which means you can make optional Hero more powerful!
Current Skills
Edit
On the Adventure Map you can find most of the skills in game as seen in the list below.
Adventure
Potential Rewards
Dino Attack
Ruban Strike
Rupurt's Rescue
Sama's Retreat
Bigfoot's Rest
Toothy's Red
Windy Dino


Healing Halo

(Steelback)



Bunker Buster

(Steelback)



Remilitarize

(Steelback)


Book of
Knowledge

Great Water Walls


Parry

(Dino)



Extra Strike

(Dino)



Critical Strike

(Dino)


Book of
Knowledge

Hammerit Creek










Book of
Knowledge

Bitsy Land










Book of
Knowledge

Lost Jaws







Book of
Knowledge

Albisaurs










Book of
Knowledge

Song of Icy Fire










Book of
Knowledge

Ulfang Square







Book of
Knowledge

Rapid Tyrann










Book of
Knowledge

Fearme Jane










Book of
Knowledge

Rhino Bay










Book of
Knowledge

Theropoda Hills










Book of
Knowledge

Valley of Anzu










Book of
Knowledge

Protecto Saur










Book of
Knowledge

Razor Stones







Book of
Knowledge

Rifty Toes







Book of
Knowledge

Lizzy's Revenge










Book of
Knowledge

Undercover Teeth










Book of
Knowledge

Hefty Grimnir










Book of
Knowledge

Windmill Falls










Book of
Knowledge

Runnosaur Hills










Book of
Knowledge

Lilarm Wings










Book of
Knowledge

Longtooth Woods










Book of
Knowledge

Flaay Homes










Book of
Knowledge

North Rippers










Book of
Knowledge

Animalia Lands










Book of
Knowledge

Thieves Stego










Book of
Knowledge

Raptor Mirrors










Book of
Knowledge

Evil Tawa










Book of
Knowledge

Reptilia Bones










Book of
Knowledge

Segiaurus Throws










Book of
Knowledge

Backbone Haltic










Book of
Knowledge

Jurrasic Fade










Book of
Knowledge

Twisted Tweaks







Book of
Knowledge

Forth Ropoda










Book of
Knowledge

Draco Venator







Book of
Knowledge

Sauridae










Book of
Knowledge

Raptor Ray's










Book of
Knowledge

Stony Hills










Book of
Knowledge

Eraptor Towers







Book of
Knowledge

Archosaur Wells







Book of
Knowledge

High Tower Rex







Book of
Knowledge

Riabinin Tours







Book of
Knowledge

Meteor Showers

Ice Crash
Froster

Ice Shield
Froster

Book of
Knowledge